Speakers Bureaus recommend Mach 2 Consulting's services because of our proven track record.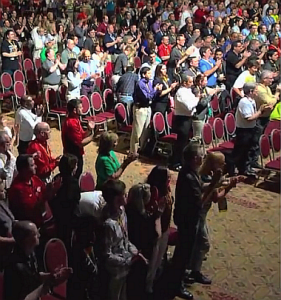 We have been consistently delivering dynamic keynote speeches on leadership, communication, and teamwork to Fortune 1000 corporations around the globe for many years. Our CEO Anthony 'AB' Bourke is a former F-16 fighter pilot and business entrepreneur. He is a motivational dynamo with a proven ability to energize, enlighten, and enrich your team's experiences and ensure a successful engagement for you or your client.
Our innovative approach of coupling military experience with entrepreneurial insight makes all of our speaking engagements dynamic, insightful, and impactful to a wide range of audiences.
Speaker's bureaus are challenged with balancing a given supply of speakers with a constantly fluctuating demand for keynote speeches. Mach 2 Consulting has developed a reputation over many years as a "go to" when speakers bureaus have clients who are looking for motivational keynote speeches that send the audience home with actionable tools that they can use to improve their business. Anthony 'AB' Bourke's Keynote Speeches typically play to the following groups:
Fortune 1000 Organizations
Sales Meetings: Speeches that Extend into Actual Training
Annual Meeting Speeches : For Various Organizations Such as Trade and Professional Associations
Management Retreats: To give your leaders the opportunity to step out of the box and think differently
Company Off-sites: Where Teams Are Looking To Improve Communication and Alignment
The value that speakers bureaus bring to the table for event planners is their breadth of coverage and their expertise in matching just the right speaker to the right event. Every speaker is not ideal for every event, and the staff at a speakers bureau can often make the right connection between a speaker and an engagement. For new meeting planners that perhaps do not have much experience in comparing potential speakers, or in booking them and dealing with the attendant logistics, these bureaus can dramatically augment your in-house event planning staff with their experience and expertise.
Mach 2 Consulting currently works with some of the top Speakers Bureaus in the world. If you are already working with a Speakers Bureau you are on the right path to finding a great speaker and putting on a world class meeting. If you would like us to recommend a Bureau based on your specific needs, please call or email us at Mach 2 Consulting, and we will be happy to share our insights on which Speakers Bureau would best meet your needs.
You can also contact us directly to learn more about our high-energy keynote speeches and interactive workshops.