9/11 Memorial Museum
On the anniversary of 9/11, I am reminded of the great people of New York and The National September 11 Memorial and Museum.  I have visited the 9/11 Memorial and Museum twice while speaking in New York City.  On my first visit with some trepidation I wondered what I would see, how I would feel, and wondered whether the museum team had created a memorial that would be truly respectful of the sacrifice of the innocent victims and first responders who paid the ultimate price on this tragic day.  The answer to the latter question is an unequivocal yes.  The Memorial itself is the most beautiful and powerful tribute to the nearly 3,000 men and women who died that I can imagine.  As I stared into the twin reflecting pools that sit within the footprint of the twin towers, I felt deep pangs of sadness at how fleeting and random life can be, a profound depth of anger at those who had attacked these innocent and defenseless civilians, and the deepest respect for those who had stepped up to help in any way they could on this tragic day in our history.
During a keynote speech a couple of years ago to a group of business leaders on the Island of Mauritius, 9,300 miles away from New York City, I asked the audience to raise their hands if they remembered where they were during the terrorist attacks of 9/11.  The entire audience immediately raised their hands in instant recognition of the event.  One member of the group called out, "9/11 is the day the world changed."
His comment delivered on an island in the middle of the Indian Ocean hit me like a bolt of lightning.  The events of 9/11 did change the entire world and in many ways they changed it for the worse: a sense of trust and innocence that we have enjoyed in the United States for over 100 years was shattered in a matter of hours.
As I later walked through the 9/11 Museum, I realized that 9/11 also brought out the best in many people around the world who stopped everything they were doing to turn to their friends, their neighbors, their families or in many cases complete strangers to ask, "How can I help?"
The 9/11 Museum does a powerful job of recreating stories of people who helped on that Tuesday morning and in the days that followed.  I have highlighted a few of them here.
Captain William "Billy" Burke of FDNY Engine Company 21 (who I'd love to believe is a distant relative of mine), then 46 years old, reached the 27th floor of the North Tower fully aware that the South Tower had already collapsed.  There, he and his crew found Empire Blue Cross Blue Shield computer programmers Frank Beyea and Abraham Zelmanowitz.  Beyea was a wheelchair-bound quadriplegic who could not descend the stairs. Zelmanowitz refused to abandon his colleague and friend.  Captain Burke ordered the men under his command to evacuate the building, and promised to meet them later.  On a phone call to let one of his closest friends know he was ok, she begged him to leave the tower and be safe. He replied, "This is my job. This is who I am."  Burke would be the only member of his firehouse who died on September 11th.
Many of the first responders on this day were regular citizens who saw what happened and immediately wanted to help.  The 9/11 Boatlift exemplifies this attitude.  As both towers fell on that fateful day, authorities closed all of the tunnels and bridges to Manhattan Island.  Suddenly, the four million people who occupy this urban island were trapped, with no way to get off.
As the buildings collapsed, hundreds of fishing boats, water taxis, ferry boats, coast guard cutters and recreational boats rushed to the scene at great personal risk to see how they could help.  They worked together to conduct the largest boat evacuation in the history of the world – bigger than the one at Dunkirk in World War II – where they made multiple trips to evacuate 500,000 people in nine hours.  These heroes were not first responders who were trained to react in crisis situations.  These were regular people with no other agenda then helping their fellow man in time of need.
Outside of the United States, many others stepped up to help as well.  One of my favorite stories is from the small town of Gander in Newfoundland, Canada.  This community of 10,000 people suddenly grew two thirds larger when 39 flights were diverted to their airport and 6,579 new unexpected guests arrived needing lodging and meals.  The residents of Gander immediately rose to the task.  They closed their high schools and converted them to lodges filled with cots and sleeping bags.
The students were put in charge of hosting their guests and often served as tour guides for different excursions in the area. The elderly were generally put up in private homes and treated with the utmost respect.  Meals were provided to all of "the Plane People" either at local restaurants or for those who preferred to stay put, individual families brought them food.  Dental and medical services were provided to any who needed them, and the travelers were provided tokens to the local laundromats since they had left their luggage behind in the planes.  Once again, the people of Gander weren't first responders, they were simply good human beings who wanted to help others.
It wasn't just high school aged kids and adults who stepped up to help either.  The museum has a collection of thousands of cards that were sent by young children around the world to comfort the families of the victims and the crews who worked around the clock to try and dig out additional survivors from the rubble.  Many of these cards were mailed directly to St. Paul's Chapel which was directly across the street from Ground Zero.  
Built in 1764, it is the oldest surviving church in Manhattan.  Over the eight months following 9/11, St. Paul's operated full time as a relief site for emergency workers, keeping its doors open around the clock in order to provide food, respite and sanctuary.
I looked through many of these cards when I visited the museum.  One that stood out said, "Thank you for saving people. If you can't save any people, it's not your fault."
On my most recent visit to the 9/11 Museum, I walked out feeling deeply troubled, but also deeply inspired by the heroic actions both large and small from people around the world after the terrorist attacks.  I recalled the saying, "all gave some; some gave all." But as I walked down the streets of New York City, I was snapped back into reality as I wove my way through hundreds of people focused exclusively on their own worlds which seemed to extend no further than their smart phones.  Clearly there is a spirit in this world that supports our fellow man, but it is hard to swallow when you realize it takes a tragedy like 9/11 to bring this sentiment to the forefront.
If you haven't yet visited the 9/11 Memorial Museum, I urge you to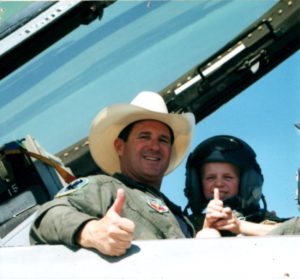 make a point of spending time there the next time you are in New York City.  If you are one of the hundreds of New Yorkers I have met who have not yet visited because you are "not yet ready," I would encourage you to reconsider.  While I cannot begin to imagine your pain and emotions tied to this tragic memorial, I strongly believe that visiting the museum will contribute to your healing process.  If you do go, please also take your children and your grandchildren.  It is our job to help all citizens of this country to never forget what happened on 9/11, and to remind them that every one of us is responsible for doing something to help keep our great country safe from those who would try to do us harm.
Peace,
Anthony "A.B." Bourke
P.S. Many of you have heard my own personal story regarding 9/11 already;  but if not and you'd like to hear it
you can see a video of me telling it here.