I recently had the honor of speaking to Ameris Bank on the USS Yorktown in Charleston, SC. Charleston is one of my favorite cities in America. It is a port town that sits at the confluence of The Ashley, Cooper and Wando rivers as they flow into the Atlantic Ocean. The weather is generally very temperate throughout the winter months, and although it gets hot and sticky in the summertime there are a multitude of beaches and waterways to dive into and cool off. The town itself is physically beautiful. Architecturally, it has maintained a southern charm, and ambiance that most can't resist. On top of it all there are myriad restaurants and bars that make eating and drinking your way through town a favorite pastime. Bourbon is king in Charleston and it's worth asking your bartenders there to introduce you to a few "brown waters" that you haven't tried before.
For meeting planners one of the great attractions in Charleston is the USS Yorktown.The Yorktown is a Vietnam-era Aircraft Carrier that was converted to a museum in 1975. It has been accurately restored to its original state and there are numerous aircraft on the flight deck, and real flight simulators that will keep any aviation buff engaged for hours. From an historical standpoint, the museum team has done a wonderful job chronicling the historic battles and missions of the carrier, as well as painting a realistic view of what life on the ship was like.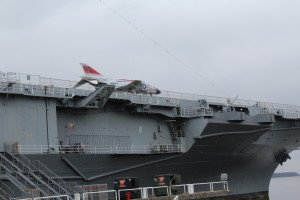 Planning a meeting on the Yorktown can bring many opportunities for participants to learn leadership lessons. An aircraft carrier has many systems and departments; visitors can tour the Hangar Bay, the Flight Deck, the Bridge, and the Anchor Room (my favorite of course was getting a briefing in the Pilot's Ready Room). In addition, you can view the Medal of Honor Museum, learn about Doolittle's raiders, the Apollo 8 mission retrieval, and one of the best collections of carrier-based aircraft anywhere, including Avengers and Hellcats.
Ameris Bank held Day 2 of their two day meeting on the Yorktown. They had me deliver a 90 minute, interactive keynote speech in the mess hall, and then conducted some additional business of their own to round out the morning. They had lunch on the ship, and then received VIP guided tours of the carrier including simulator time and lots of time on the flight deck.
During my talk I shared some principles around the "Feedback Loop" that fighter pilots use to drive accountability and better results in their squadrons.  I shared leadership tools that military commanders use to improve execution and showed them how their team of Top Guns could adopt these same tools to help improve performance as individuals and as a team. For a sense of what I covered, check out this similar talk I gave recently.
If you're planning a meeting and are considering hosting an event in Charleston, I would strongly recommend building some time on the USS Yorktown into your plans. It's a great way to get people out of the "same old" work environment (and their comfort zone) and open their minds up to new ideas:  https://www.patriotspoint.org/explore_museum/uss_yorktown/