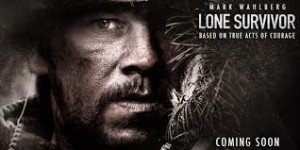 I watched the movie "Lone Survivor" last night in my local theater.  I have been eager to watch this movie since its release on Friday.  As a motivational speaker, I am always looking for leadership lessons that can be learned and applied in both business and military contexts, and this film is chock-full of them.  I have great respect for the lead character, Marcus Luttrell, and all of our special forces in the US Military.  For those who don't know the story, Marcus was a Navy SEAL who was inserted as part of a 4-man team into the mountains of Afghanistan in June 2005.   The Team had been fragged as part of a reconnaissance and surveillance mission called Operation Red Wing.
Things took a turn for the worse on their mission when they were inadvertently discovered by a group of goat herders from a local village.  While 20/20 hindsight shows that the team should have either taken the herders captive or "terminated" them, rules of engagement, "headline risk," and high moral standards compelled them to let their surprise guests go free.  This decision allowed the goat herders to alert the local Taliban of the SEALS' presence which resulted in a massive firefight in which many US troops were killed, and Marcus was the lone survivor.
Besides the incredible sense of professionalism, heroism and extreme focus on mission displayed by these SEALS, one profound reminder of this movie was the US Military's commitment to leave no man behind.  During and following the firefight, Marcus's commanding officers dedicated significant resources to rescuing and recovering him from a group of high mountain Pashtun villagers who found Marcus in a badly wounded state and saved his life.  The initiative displayed by the US military leadership in effecting Marcus's rescue was clearly an inspiration. It sends a message to others throughout the military that the leadership is looking out for the individual solider.  This provides a huge morale advantage, particularly in situations where soldiers are asked to put themselves in harm's way.
The rescue and recovery team also identified and brought home the bodies of 19 of our warriors who were killed in the action on a rugged hillside at 9,000' altitude.  Knowing that you won't be left behind provides a huge psychological boost to any soldier in the field, even if they are working alone.
Many people ask me how the military gets such remarkable results and commitment from its people.  My answer always revolves around hiring the right people, training them to a level that far exceeds the competition, and developing a culture that constantly strives for improvement.  As importantly, our troops know that through thick and thin, "no man will be left behind." As a leader, have you created a similar environment in your office, your division or your company?  When your people know that you have their backs, and will support them in successes and their mistakes – they will be highly motivated and will run through walls for you and ultimately drive the results that you aim to achieve.