It is with great pleasure that I share with you the press release announcing our new business venture, Mach 2 Airshows.  For more than 20 years, I have delivered best in class keynote speeches and seminars in the world of corporate meetings and events.  I have always believed that there is an incredible opportunity to bring private airshows to these meetings and events, and the time has come to make this dream a reality.  I have identified the best partners in the business and together we have tested our concept with several corporate audiences.  As of today, you now have the opportunity to bring a private airshow to your next meeting or event, and even to send attendees up in our state of the art airplanes for the "Ride of a Lifetime" they won't forget.   I look forward to hearing from you to discuss how we can help take your future meeting or event to the next level with a private airshow!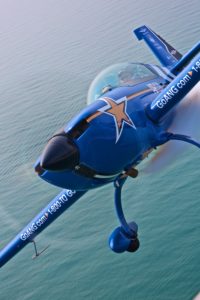 FOR IMMEDIATE RELEASE
New Company Brings Private Airshows to the World of Corporate Meetings and Events
San Francisco, CA, May 31 – Mach 2 Airshows launches today, bringing private airshows to corporate meetings and events nationwide.  Based in the San Francisco Bay Area, Mach 2 Airshows is the brainchild of former United States Air Force F-16 Pilot and serial entrepreneur, Anthony "AB" Bourke.
As a renowned keynote speaker, AB has presented to corporate audiences around the globe for more than 20 years helping companies reach peak performance by applying his military background to successful business operations. Bourke is constantly asked by event planners how to take their conference to the highest level. AB believes that incorporating private airshows to enhance and energize these meetings and events is the perfect solution.  Mach 2 Airshows can execute single or multi-plane, cutting edge private airshows at the finest meeting and convention locations across the United States.
"This is truly the game-changing program that meeting and event planners have been seeking for years.  When you want to motivate a team or group of clients, and make them feel like they work for the best organization in the world, a private airshow combined with personalized rides for top performers will take your meeting to a whole new level," says Bourke.
Not only can meeting planners leverage Mach 2 Airshows for world-class entertainment, they can also book the airshow pilots to mingle with event attendees after the airshow or address audiences with motivational keynotes. And most exciting, Mach 2 Airshows offers the option to send lucky attendees airborne in state-of-the-art aerobatic aircraft.
AB grew up in a flying family and earned his pilot's license at age 17.  He has accumulated more than 3,000 hours of flight time as a pilot in the United States Air Force, as a United Airlines Pilot and in various corporate flying roles over the past 35 years.  Bourke's distinguished career in the aviation world has allowed him to partner with the best airshow pilots in the business to bring premier airshows to corporate events.  According to Bourke, "when you are talking about putting on private airshows for the world's best organizations, safety is paramount.  At Mach 2 we represent the best and the safest airshow pilots in the world and carefully plan out every detail of the client experience to make sure that our programs are flawless."
To learn more about Mach 2 Airshows and how to incorporate an airshow into your next meeting, visit https://mach2airshows.com/ or call 866-651-5556.
About Mach 2 Airshows LLC
Mach 2 Airshows provides the opportunity to hold a private airshow at your next corporate meeting or event. Whether it is performed on the beach during cocktail hour, over your hotel, or at a local airport, Mach 2 Airshows has the ability to make your meeting better than you or your attendees can imagine.  For more information about Mach 2 Airshows, visit http://mach2airshows.com/. For Further Information Contact:
Erin Owenby
[email protected]
866-651-5556
Mach2Airshows.com