Anthony "AB" Bourke, fighter pilot and business executive, is an experienced keynote speaker and proven business leader with a strong history of delivering dynamic, interactive, keynote speeches to a wide range of organizations. Bourke's 15 years of speaking to Fortune 1,000 and conference audiences around the world are a testament to his ability to motivate, energize and provide your team with real takeaways that they can implement the minute they walk out the door, challenged and inspired by his keynote speech.
I anticipate that the concept of "debrief" will be widely adopted throughout Grocery Outlet. I think I mentioned to you before that we hold this meeting twice a year, and it is very rare for a speaker to receive a standing ovation. You had every one of our 300 operators on their feet at the end of your presentation which is a testament to you and your subject matter. We look forward to having you back again in the future and please feel free to use me as a reference for other companies who are considering working with you."

MacGregor Read, Co-CEO Grocery Outlet Inc.
Customized For Your Business
AB speaks on a variety of pertinent business issues that are customized for your organization. Like all good fighter pilots, he takes special pride in his pre-mission planning where he will spend considerable time with you by phone or in person learning about your group and preparing for the mission. His goal for every presentation is to "Walk your corporate walk, talk your corporate talk and deliver his powerful message wrapped around your meeting themes and goals."
…most noticeable for the audience was the professional care and attention to detail that you put into the front end planning for the presentations and the customization of the slide program to reflect our business focus and needs."

Jim Carter, Syncrude Canada Ltd.
All of our keynote speeches include the following key components:
State-of-the-art multimedia presentation
Interactive and engaging content that leads to team buy-in
Customized messaging that supports your meeting goals and themes
Mach 2 has proven expertise in a wide range of subjects including:
Communication
Leadership
Organization
Team Work
Commitment
Culture
Sales Excellence
Our Six Most Popular Keynote Speaker Topics: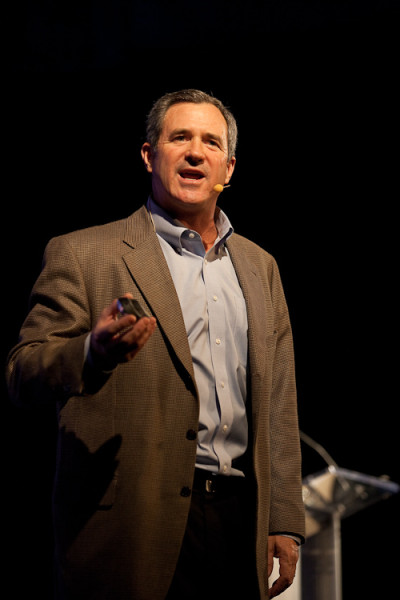 Executing at Mach 2 (45-60 minutes)
There are many companies with great people and great strategies in the business world today.  Ultimately the difference between the winners and the "also rans" comes down to Execution. During this interactive, multi-media keynote speech, AB will share the tools that fighter squadrons use to make sure that we are aligned, flying in formation and executing at the highest level every single time we fly. This highly motivating and inspiring keynote will equip your team with simple actionable tools that they can apply the very next day to improve execution and drive better results as individuals and as a team.  If your company is pursuing a path of Executional Excellence, this session will reinforce your messaging and provide a fresh perspective on why Execution truly matters in every business.
Communicating at Mach 2 (45 – 60 minutes)
A high impact Keynote focusing on how the world's most successful enterprises – where results truly matter — achieve peak performance by creating a culture of honest and open feedback. At the conclusion of this 45-60 minute multi-media presentation, your team will walk out the door with a clear understanding of the potential power of open feedback. They will also learn how a "feedback gap" can cripple an organization. Finally, they will see a clear path on how you can make open feedback an integral part of your culture.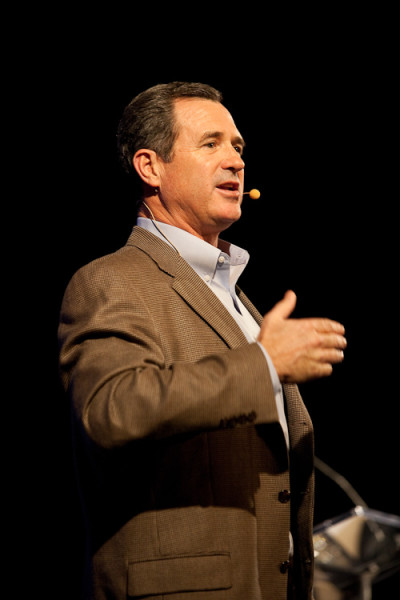 Leading at Mach 2 (45-60 minutes)
All great leaders have a system for driving peak performance. This hard-charging, high-impact keynote offers your leaders the straightforward, critical tools that U.S. fighter pilots employ to lead their wingmen into the demanding environment of aerial combat. Learn how the best fighter squadrons and the best businesses in the world hire future leaders, how they then properly train those individuals, and continually promote a process of continuous improvement to stay one step ahead of the competition.
Selling at Mach 2 (45- 60 minutes)
In addition to rising to the top of the aviation community, AB has built a business career on sales excellence. After achieving accolades as "Top Producer in the Western US" for a prominent lending institution, AB led a team of 40 professionals to grow revenue at a California based start-up company from $500,000 to $65M in just three years. A quintessential sales professional, AB will teach your people that just like fighter pilots, "great sales people are made… not born." He draws comprehensive parallels between what makes great fighter pilots and what makes great sales people. For organizations looking to develop a sales team of "Top Guns," this dynamic, interactive speech is a must!
Innovating at Mach 2 (45- 60 minutes)
In today's rapidly changing world companies and their people must constantly innovate to stay ahead of the competition. While many people in business think only of Tech Entrepreneurs as the leading innovators of our day, there is no doubt that fighter pilots are constantly innovating to survive and thrive in the world of aerial combat.   As a former fighter pilot and serial entrepreneur, AB has applied the tools that fighter pilots use to stay ahead of the competition to the world of business.  In this speech, AB will share these secrets and show your audience what it takes to be the best innovators both in combat and in their industry.
Staying Safe at Mach 2 (45- 60 minutes)
Safety is the key to every successful mission for a fighter pilot.  No matter how fast they fly, or how accurate their bombing runs, none of it matters if they don't come home.  Learn how the best fighter squadrons in the world train their people to execute the mission at the highest level every day, while keeping "safety first" top of mind. In this high-impact keynote, AB explains how to build a culture of safety without compromising the mission.  He will also paint a vivid picture of how to identify the series of events that can lead to an accident while offering attendees the critical tools that U.S. fighter pilots employ every day to keep their wingmen safe in the high stakes environment of aerial combat.
The comments from sales, development and management, all echoed the same message, "this training was the best training we have ever had." We have come to realize that our biggest weakness is the lack of debriefing, and that if we exercise this principle we can improve our future missions."

Steve Mack, Fast-Tax
Our Experience Assures the Success of Your Event
Whether you are a corporate meeting planner, a CEO or an Executive Assistant planning a meeting, who you hire as your Keynote Speaker is critical to setting the tone for the entire event.  Many meeting planners will incorporate industry speakers, economists, or even political pundits to share their thoughts at the annual meeting.  These Keynote speeches are often insightful and informative, but seldom uplifting.  These types of speeches also rarely offer the audience tools that they can apply to their business to improve performance.
From our perspective there are two key ingredients that go into a world class keynote speech.  A great keynote speech should inspire and motivate, but also send your people home with actionable tools that they can apply to their business the very next day to help them drive better results.  This is the ROI that most business leaders are looking for when they hire a speaker.
Meeting planners also want to be sure that their speaker has excellent experience getting up on stage, and that their speaker will invest the time upfront to learn their business and tailor the keynote so it speaks directly to the audience.  Anthony "AB" Bourke has been speaking to audiences around the world for over 18 years.  His background as a fighter pilot and a CEO have engrained a system of preparing for his speeches in the same way that he prepared before flying tactical combat missions.  If you choose to work with AB, you should plan on investing at least an hour of your time by phone or in person, so that he can show up to your meeting fully prepared to deliver a speech that's on time, on tone and on target for your event.
Thanks again for providing us a World Class Speech at our PCS Annual Conference. Your message was a perfect fit for our group and our theme. Most importantly, the term "Debrief" is the new buzzword at Russell as we continue to "Come Together" and focus on always doing the right thing for our clients, our associates and our investors.  I commend you on your hard work up front, learning our business and our language. You seamlessly wove our themes and verbiage into your presentation and this was noted by all who attended."

Michael Winnick, Russell Investments