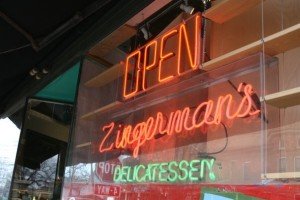 The New York Times recently featured a great piece on Zingerman's deli, a real cultural fixture in the city of Ann Arbor, Michigan. It all started in 1982 with a really good sandwich. "[We had] a vision of a sandwich that was so large it would take two hands to pick up and when you finally bit into it, the Russian Dressing would roll down your forearms," said Paul Saginaw, half of the partnership that started Zingerman's Deli.That vision was apparently very appetizing because since the 1990's they have had lines out the door, and plenty of offers to replicate (Disney and Las Vegas Casinos to list a few).   Yet, that wasn't Ari Weinzweig's and Paul Saginaw's intention for their company. To them the goal wasn't about replication of their Deli, rather replication of their ideals on how business should be done. In 1994, the partners envisioned Zingerman's Community of Businesses (ZCoB), a community of varied local businesses that do business the Zingerman's way. Today there are six different ZCoB bunched together in Ann Arbor, which include a coffee company, a creamery, an event space and a mail order business.
The Zingerman's Way
The philosophy that built the great Zingerman's brand really isn't that complicated. It's all about openness, improvement, and training. In fact, a lot of what makes their business work can be traced back to the "Feedback Loop" of regular Briefing and Debriefing. One of the initial practices set forth by the partners was one of openness. They had read a book that encouraged businesses to make information about the company and employee performance available to all employees. They believed a result of open information would be that employees would feel more motivated by being exposed to their colleague's performance numbers. Employees would be rewarded for improvements, and asked to contribute ideas of any kind. These ideas would hypothetically make them feel more connected to the business and help Zingerman's improve overall.
It was great plan, but for some reason it wasn't quite working. The employees could see the numbers, but they didn't understand them. It turns out what they needed was a weekly Debrief meeting.
Zingerman's Deli does an excellent job of Debriefing. In their own way, they follow the 5 R's of an Effective Debrief.
Reconvene:
Meetings are a regular event for every establishment that has the Zingerman's name. There can be up to 50 meetings held every week. For instance,Zingerman's Roadhouse has a scheduled meeting every Wednesday morning. All employees are encouraged to attend, and are paid for attending, even if the meeting takes place on a day off.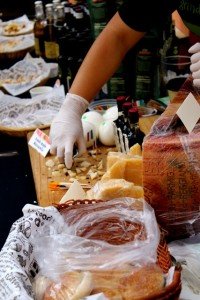 Zingerman's has figured out how to set a tone in these meetings where people will share ideas without fear of reputational risk. As Paul Saginaw said, "[They want] an organization where decisions would not be based on who had the most authority but on whoever had the most relevant information."
In their Debriefing meetings they create a welcoming atmosphere in which the staff, from busboys to managers, are encouraged to share ideas and play an active role in the company's improvement.
Review Objectives:
Zingerman's has standard objectives that are always covered in the Weekly Debrief. These include the performance numbers from previous weeks as well as discussing the projected numbers for the current and upcoming weeks.   The fact that the leaders build their Debrief around specific objectives provides structure for the meeting and prevents the Debrief from going off on tangents with little team value.
Refine:
After sharing their past numbers and current projections, meeting leaders turn to the staff for ideas. Did they hit their objectives? If so, why,and how can they repeat or build on these results moving forward. If not, why not and how can they do better? How can they meet/beat the current week's goals? What will they do in the event of contingencies like a financial downturn? How can they be more efficient and effective? Recently one employee came up with an idea to be more efficient and save money by preserving the eggs yolks thrown away at the bar from drinks that used egg whites. This idea was well received and as the leader, Ari Weinzweig encouraged him to come up with a plan over the next week that the team could implement.
Clearly these Debriefs help the staff feel invested in the company because they help shape its future. For instance in 2009 there was the possibility that the Bakehouse would run out of money within the year, which could have led to layoffs. Several employees and two managers offered to take pay cuts in order to avoid that. They made it through the crisis, and were able to pay those employees back.
Recap:
After the ideas are presented, the leader summarizes any key lessons learned and next steps for the team to act on over the next week/meeting.This wrap-up ensures that the team walks out of the Debrief aligned and flying in formation with a clear message on how they will operate moving forward.
Conclusion:
The Zingerman's brand is very successful for several reasons but the main two are very simple: they have a great product, and they have a great way of doing business. It's the second one that really sets them apart because a great product can only take a company so far without the right business structure for support.
Ari Weinzweig and Paul Saginaw always had vision, but their idea of staff openness was ineffective until they started having weekly Briefing/Debriefing meetings at all their companies. Their own version of a regular Feedback Loop has enabled them to grow their core business and empowered their people to start many others. Clearly when people feel like their input has been heard and is valued they will run through walls for you and find ways to keep making your business better. I can't think of a business leader in the world who wouldn't find that to be a mouth watering proposition!