Dean Cortopassi, affectionately known as "Dino," was a bootstrapping Central Valley farmer when he purchased Stanislaus in 1979 with the knowledge that 99 percent of all the processed tomato products consumed in the United States come from California. Because he was a farmer himself and knew the best growers in the area, he set out on a mission to buy the best tomatoes and make the best tomato products in the world. His business plan was to supply his product exclusively to pizzerias and Italian restaurants whose success is highly dependent on the quality of their sauce.
SFP experienced outstanding growth through the 1980s and '90s. Today it is regarded as the premier player in the market. In 2000, Dino handed over the reins of the company to his nephew Tom Cortopassi. Tom had worked in the business for many years and upon taking over as CEO realized that he had inherited what many might call a "Super Bowl Championship Team." SFP made the best products, had the best strategy, employed the best people, and was widely recognized as the market leader.  But Tom knew that when you're No. 1, everyone is gunning for you.
When I first met Tom in 2001, he told me: "AB, in a lot of ways my company is like the US Air Force.  We're the best at what we do, but we need to make sure that we stay on top by avoiding complacency and making sure we get a little bit better every single day."
As that conversation developed, I introduced Tom to the Fighter Pilot's Feedback Loop of continuous improvement. Since that time, no company has embraced the concept of  regular "Briefing" and "Debriefing" with more passion. Today, Stanislaus Food Products applies the concept of the Feedback Loop to every aspect of its business – from tomato processing to sales and marketing. As a result, over the past 13 years SFP has continued to grow its business and market share in a segment that has remained flat; I'd like to share with you some of the ways they have successfully used these techniques.
Packing Season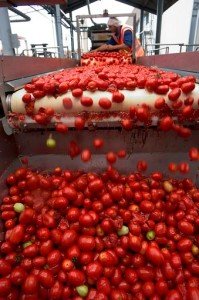 Stanislaus Food Products operates on a 70-day production cycle. When the tomatoes ripen red in the summer sun, they are transported in large hoppers known as gondolas to processing plants. A typical gondola carries 25,000 pounds of fresh tomatoes. According to the California Tomato Growers Association, up to two billion pounds of tomatoes are processed daily during the peak of the season. Because time and temperature degrade true tomato flavor, Stanislaus Food Products insists that fruit must go from vine to can in less than six hours, meaning that they are inundated with a river of red 24/7 during the packing season.
To manage this flow, Stanislaus Food Products operates three eight-hour shifts per day during the pack. The plant must run perfectly night and day to ensure that growers' tomatoes are processed within the self-imposed six-hour time limit and to the company's exacting quality control standards. Stanislaus managers Brief production crews at the start of each shift to pass on any Debrief lessons learned from the previous shift and to ensure that everyone working the line knows their production objectives and their roles for the shift ahead. This simple process aligns the shift workers, alerts the team to possible problems, and drives peak performance for 210 straight shifts.
Tomatoes lose fresh tomato flavor with longer cooking times and higher temperatures. Stanislaus constantly strives to minimize cooking temperatures and cans its products in as little time as possible.  Shaving even a few seconds off the cooking time and a few degrees off the temperature yields a product with a truer fresh tomato taste.  Where other tomato product makers use bulk industrial tomato concentrate reconstituted with water, all Stanislaus Food Products are made from fresh-packed tomatoes.  Every employee in the plant knows that SFP is committed to producing the best product in the market, and every Stanislaus can carries a logo that proudly guarantees it's "Packed From Fresh Tomatoes, Not From Concentrate!"
During packing season, managers work around the clock in 12-hour shifts, seven days a week.  Twice a day they conduct a Debrief at the "Six O'clock Meeting" (a.m. and p.m.). These sessions are designed as a real-time way to capture tactical information needed to fine-tune plant operations on the fly. The manager leaving the shift passes on Debrief comments and key lessons learned to the oncoming manager. Stanislaus has standardized this process so that it is never skipped, and a checklist is always used to make sure that no element of the Debrief is missed. This simple procedure insures that manager "handoffs" go smoothly for 70 straight days, even when the team becomes tired.
These Debriefs also yield valuable ideas on how to improve operations, enhance product quality, and increase worker safety. To guarantee that key lessons are captured during the heat of  "the season," CEO Tom Cortopassi created a "Lessons Learned" Logbook so that managers can write down key lessons that were learned during each shift, for review at a later (and calmer) time. Tom carefully reviews these key lessons during the off season and works with his management team to build on the best practices gleaned from the logbook as well as eliminate practices or systems that lead to execution errors during the season. This simple technique of daily Debrief and creating a "Lessons Learned" Logbook has dramatically improved the overall safety, quality and efficiency of the operation year after year.
Sales and Marketing
Stanislaus handles its customers with the same exacting care it handles its tomatoes. They truly believe that you win one customer at a time, and that educating customers on Stanislaus' quality and commitment to excellence is the best way to earn long-term customer loyalty. Every year during packing season, the sales and marketing team flies in current and prospective customers to show them the remarkable pride and meticulous care that goes into making "Real Italian" tomato products and takes them on field and cannery tours.
Just like the production team, the sales and marketing team conducts a team Briefing before each and every field/cannery tour. The Briefing time is standardized to start one hour before the tour, and the tour leader uses a Briefing Guide to make sure that all involved understand who will be on the tour, the objectives for the tour, the logistics for the day, the roles and responsibilities of all players, and how the team will handle any contingencies that could arise.
Tours begin at 7 a.m., run until 3 p.m., and are synchronized like a Swiss watch. These tours are so important to the business that CEO Tom Cortopassi meets with every visiting guest.  Immediately following each tour, the sales and marketing team Debriefs to review how the tour went versus the objectives set out in the Brief and to share any market intelligence gathered. Analyzed at the end of the pack, this valuable customer feedback is also recorded in the "Lessons Learned" Logbook for future reference.
How important is it to Stanislaus Foods to conduct a perfect tour and get better every day?  By its own measurement, SFP has proven that prospective customers who take a tour and experience the company's passion for excellence are very likely to become SFP customers. Existing users of Stanislaus products become "Customers for Life" after the tour.  How do you like them 'maters, and do you think that's a reasonable return on investment?
Conclusion
There is no doubt that working three shifts per day for 70 straight days, and conducting many important tours in the same time period can wear a team down and potentially cause leaders and team members to fall into a state of complacency. In fact, I'm sure every business has "a busy season" that takes a toll on its people. The secret at Stanislaus is they avoid complacency by Briefing every day to keep the team focused and flying in formation, and always conduct a Debrief to drive better results and capture key lessons learned for the future. Stanislaus Food's Feedback Loop is a true Lesson in Leadership and demonstrates the power of a Feedback Loop. The proof is in the sauce… and in the sales.