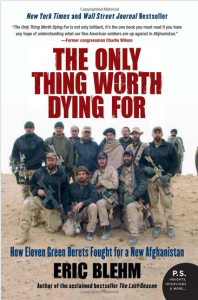 Books about Military operations can be both fascinating, and filled with interesting lessons that can even be applied in business situations. Eric Blehm's "The Only Thing Worth Dying For" is no exception.
His book details how a small U.S. Special Forces team escorted Hamid Karzai back into Afghanistan (after his extraction – he had crossed from Pakistan into Afghanistan relatively soon after 9/11 occurred – with no real protection or planning – and had been cornered by the Taliban.)
Major Robert Kelley, early on in the story, summed up the strategy:
 "We're going to put small teams of Special Forces guys on the ground in Afghanistan. If CENTCOM gives them two broad powers, then all the complicated tribal nuances, shifting allegiances, tactical reality – they will work it out, and they will win.
One, we need to give the teams the power to make a radio call and bring great death and destruction from the sky. Instantly, 24/7 no matter where they are.
Two, they need to be able to make a radio call and at the next period of darkness, we have to be able to deliver from the sky shelter, medicine, lots of weapons, munitions, and explosives for guerilla fighters.
If we give them these two powers, the Green Berets will make it happen on the ground."
While there are leadership lessons galore in this book, there is one example of Debrief (closing the loop with lessons learned) on a very high level that stands out.
Towards the end of the book, an air strike is called in on a cave near the team, many of which are on a hill (Karzai had just walked off of the particular hill). The air strike was called in to a B-52 by Tactical Air Control Party Specialist Jim Price, but with a tragic error involved. He used a new GPS device called a Viper, and tested it by shooting its laser at the ground at his feet, prior to calibration. He assumed that the location would be discarded…but it was not, and he called in that location to the B-52. When the B-52 asked him to verify his location (to prevent any "friendly fire" problems), he refused because there had been a friendly fire incident several weeks prior in the North of Afghanistan where the aircrew had inadvertently entered the location of the person calling in the airstrike. Had he checked his personal GPS and shared his location the aircrew would have noticed the target location was identical to his position, but the outcome instead was that the B-52 dropped a 2,000 pound JDAM (GPS-guided bomb) essentially directly on the special forces team on the hill, resulting in numerous deaths and injuries – three American deaths, twenty-five wounded, and an estimated fifty allied Afghan fighter deaths.
The latter part of the book details the aftermath of this terrible incident and the rescue mission that ensued.  Ironically shortly after this occurred, a Taliban delegation from Kandahar surrendered the city to Karzai. Fortunately Karzai had walked off of the hill to a safer location, but he still suffered a scratch on his cheek when the explosion occurred.
The "Debrief" element at the end of the book that stands out is that Price continued to serve following this tragic incident. He deployed for another tour in Iraq, controlling combat air strikes as late as April 2004. He then retired and as of the writing of the book taught "joint fires and close air support" courses for a U.S. Army Air School. His students clearly have the benefit of being taught by someone who "has been there and done that". What is most important is that the Army allows a soldier who made a fatal error, to teach the next generation what he learned on that tragic day and how they can avoid making similar mistakes.
No fighter pilot has ever flown the perfect mission, and no one in any business will ever have the perfect day, week, month or meeting. In our world there's "them that has and them that will". The key is to learn from our mistakes and try to get just a little bit better every single day.