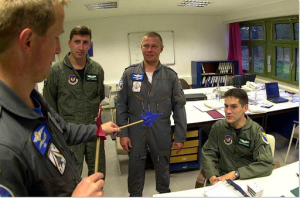 Apprenticeship is an age-old concept. Since the earliest days of business and commerce, whether in a blacksmith's shop, a merchant's back office, or in the kitchen of a fine restaurant, apprenticeship was the way that young workers learned a trade.
The core principle of an apprenticeship culture in any business is a strong foundation of training reinforced by regular feedback to help the young apprentice develop into a qualified craftsman and, in many cases, a future leader.
The US Air Force, Navy and Marines have adopted an apprenticeship culture as a cornerstone of their officer development programs.  Knowing that even the greenest pilot will one day become responsible for high-risk missions and the lives of others, senior officers search for every possible means to accelerate experience and drive peak performance.  One constant in this demanding business is a culture of open and honest "Debrief".  Debrief is a system of continual learning and review that pushes employees at every level to be aware of, and learn from, their performance.
The Debrief is an integral part of every mission a fighter pilot flies.  It is a regularly scheduled session in which every team member evaluates and learns from the group's collective and individual performances.  Held at a set time following the mission, the debrief is a safe environment where officers of every level leave their rank and name tags at the door, and consider only their roles in the mission.  This is also a time during which every individual is free to constructively critique themselves and others without fear of reputational risk or retribution.  In essence, Debrief is a "safe zone" where pilots receive real-time feedback that allows them  to reflect, learn, recalibrate, and adjust as fast as possible in the rapidly changing world of aerial combat.
Despite being a guiding principle for developing young talent in the military, professional sports, healthcare, and other performance-driven businesses, the culture of apprenticeship is often overlooked in the modern business environment.  Feedback is forgotten or avoided, debrief is rare, and performance reviews evoke feelings of dread instead of providing ways to improve. This is a missed opportunity for most businesses.  The professional organization who embraces young employees as apprentices and future leaders, and cultivates a culture of regular feedback, will find that every day, every meeting, and every shift are being utilized to their maximum potential in developing talent and accelerating experience.
I had the pleasure of spending a couple of years helping a global consulting firm reestablish its own culture of apprenticeship.  In the firm's early days, management made apprenticeship a priority in the development of its people.  By learning from on-the-job successes and failures, young associates quickly acquired the skills necessary to cultivate clients and develop new business.  Twenty years later, this same company had become a world-class global consulting leader with a 5,000 person consulting staff, 45 global offices, and over 500 partners.  Today's partners, however, find that although their business is thriving, the pace of their daily schedules leaves little time for feedback and review.  As a result, the apprenticeship culture that made the institution so strong years ago was in danger of decline, leaving new associates unequipped with the tools that built success in the older generation.  By embedding the fighter pilot culture of regular Briefing and Debriefing with their teams around key client meetings and events, this firm was able to rapidly restore their apprenticeship culture and thereby accelerate the experience of their people and drive better results for their clients.
So how can a company apply the techniques and culture of apprenticeship in order to develop young employees and build a generational business?  Prioritize giving young employees a chance to gain valuable experience.  When a team of associates helps prepare for a high-level meeting, lay out specific roles and responsibilities, encouraging role play to involve team members in a vision of execution. After the meeting, follow up!  Let each team member know how the meeting went, what their contributions were, other salient details gleaned from your unique experience, as well as next steps.
In the daily rush of running a business, it is easy to get lost in the heat of the battle.  As a leader, making time to Debrief with your team gives you the opportunity to offer and receive feedback that will keep the team aligned and moving forward.  This key element of apprenticeship culture is a crucial part of developing your people and continuing to grow as a leader.  Nurturing a culture of continual improvement built on appreciation and respect will help you drive better results with your team, delight your customers and create a company that is built to last.