To my friends in the Bay Area, I thought you might be interested to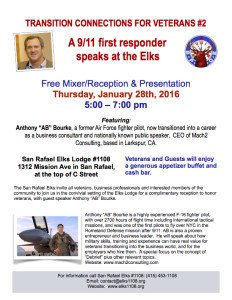 know that I am speaking to a group of Veterans and community members at the Elks Lodge in San Rafael this Thursday night 1/28 at 5 PM. I think you would enjoy my presentation. It is a free event, and it supports a good cause which is Veterans who are in career transition. As an added benefit, the Elks will be serving good food and grog.   Details here.
I'd love to see you there.
AB